TypewriterFX: A Mac OS X typewriter sound effects application
Inspired a bit by Tom Hanks' iPad typewriter app, TypewriterFX is a free, open source application for Mac OS X systems that plays typewriter sound effects as you type. Once TypewriterFX is running, you can switch to your favorite word processor (Pages, Word, Scrivener, etc.), and hear typewriter sound effects as you type.
2020 UPDATE: I originally created TypewriterFX for Mac OS X 10.9 ("Mavericks") and 10.10 ("Yosemite") systems, but with recent changes to MacOS 10.13 and 10.14, TypewriterFX no longer works, so I've removed the "Download" link here. If I ever get some free time I'll be glad to try to update TypewriterFX, but I don't expect to have any free time any time soon.
Using TypewriterFX
After a short, initial setup process (described below), TypewriterFX is intended to be simple. The following image shows the application's user interface (UI). The UI lets you control the volume, mute the application, and specify whether you want sound effects played for "arrow keys" (the Up, Down, Left, and Right arrow keys on your keyboard):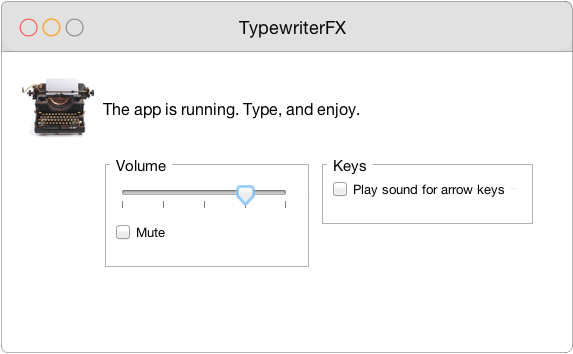 Main TypewriterFX features are its volume control, the ability to work while hidden or minimized, control from the dock, and steps that are taken to ensure your privacy.
Volume
The application has five volume settings, so you can set it to a point where you can barely hear it, or you can make it loud. The Mute button lets you mute the application without having to shut it down.
Minimize and Hide
Once TypewriterFX is running, you can minimize its window to the Dock and it will continue to play sound effects. You can also hide it just like any other Mac application by using the [Command][H] keystroke.
Control from the Dock
You can also control the volume and mute control from the application's Dock icon. Just right-click the Dock icon to increase, decrease, or mute the volume from there.
Privacy
For TypewriterFX to work, it has to listen to "global" keystrokes on your Mac while it runs in the background, In fact, that's the only way it can work.
Because this is how TypewriterFX must work, it's important to know that these keystrokes are not recorded in any way, and they are not sent across the internet. In fact, the code in TypewriterFX that listens to keystrokes and plays sound effects only does these things:
TypewriterFX receives an event from your Mac OS X system saying that a keystroke was pressed.
The application tests to see if the keystroke falls into one of six categories: 1) Arrow key, 2) Shift key, 3) Spacebar key, 4) Backspace key, 5) other keys that appear on a typewriter, and 6) keys that would not be on a typewriter (like function keys).
If a keystroke falls into one of the first five categories, a sound effect is played.
That's really all that the application does. To reiterate the key privacy points:
Listening to global keystrokes is the only way this application can work while running in the background.
Keystrokes are not saved anywhere.
Keystrokes are not sent across the internet. In fact, this application never connects to the internet.
The only information this computer saves on your computer is:
If you move the window on the screen, it remembers where you moved it.
It remembers your desired volume setting.
It remembers whether or not you want to play sound effects when arrow keys are pressed.
All of that being said, if you're at all concerned about how this application works, don't download it.
Download
You can download TypewriterFX from this link:
(As mentioned at the beginning of this article, the download link for TypewriterFX has been removed.)
The size of the zip file should show up as 59.4 MB, or 59,437,999 bytes to be exact. People comfortable with the Mac OS X command line can verify the zip file using the usual tools:

# md5sum:    5116c7bd0c8f2a140f6be56cd89d1679
# sha256sum: ee3a7f153c952a1d2c4d69fc2216246a591e722363393d8c16fa60079262a963

Once you've downloaded the zip file, double-click it to expand it to a folder. Then double-click the folder to open it, where you should see these two files:
Because of the way TypewriterFX works, it requires a little configuration when you first run it. This is described in the next two sections.
Initial Setup - Part 1
Because the application listens to keystrokes even when it's running in the background, there are two things you need to do to enable TypewriterFX on your system.
After you download and unpack the application's zip file, the first thing you have to do is right-click the TypewriterFX application icon, and then click the "Open" menu item. When you right-click the application icon on Mac OS X 10.10 ("Yosemite") the pop-up window looks like this:
When you click "Open," TypewriterFX will attempt to start, but will fail to open -- but that's okay. We had to start with that step to get to the next step ...
Initial Setup - Part 2
Because TypewriterFX listens to keystrokes when it's running in the background, you need to grant permission to the application to let it "hear" those keystrokes. Just follow these steps to grant that permission:
Click the Apple icon in the Mac OS X menubar
Click System Preferences
A this point you'll see the following dialog:
Continue by following these steps:
Click Security & Privacy (highlighted on the previous image)
Click the Privacy tab
Click the Accessibility item in the list on the left
Click the lock in the lower-left corner of the dialog
Click the Accessibility item in the list on the left
Supply your system password to allow the change
Click the TypewriterFX application icon in the "Allow the apps below to control your computer" list
Those steps are shown in this image:
You should only have to go through this setup process one time.
Once you've enabled TypewriterFX like this, you should be able to go back to its application icon and double-click it, at which point it should start normally. Once it's up and running, tap a few keys on the keyboard and set the volume to the desired level. After that, you can begin typing in any other application, and as long as TypewriterFX is running (and not muted), you should hear typewriter sound effects as you type.
After you've confirmed that TypewriterFX is working, to complete the setup process, return to the Privacy preferences dialog and click the lock in the lower-left corner of the dialog again. By re-locking it, you're securing the Privacy panel so no other changes can be made unless you supply your system password.
Enjoy
I hope TypewriterFX works well for you, and that you enjoy the sounds of a typewriter as you type. If you have any questions or comments you can reach me through my contact form. You can also learn more about me at my main website, alvinalexander.com, and you can find me here on Twitter.